Media monitoring
Friday's Pro email: Shaw, Woods want to cap emissions at 2020 levels
Welcome to the final regular Newsroom Pro morning newsletter for 2019. Lynn and I appreciate your support and wish you a safe and Kirihimete Koa. We'll be back in person from January 20, even though we live in Wellington and it's a public holiday...someone needs to sort that out. Peter Dunne?

In the political economy and in business this morning, the focus is on big new climate change proposals from Climate Change Minister James Shaw and Energy Minister Megan Woods that would transform the Emissions Trading Scheme to cap emissions at 2020 levels by limiting the number of emissions in the system and doubling the carbon price cap to $50 a tonne.

They put out their news release at 5.21pm last night...grrrr. Here's the full discussion paper. There are over 100 questions addressed in 133 pages over 11 chapters in two parts for energy, farming, transport and policy experts to peruse before Christmas. My quick look (and we'll try to dig deeper later today) shows it includes proposals for:
bans on new coal-fired boilers and a phase out of existing ones by 2030,
introducing a levy on the use of coal-fired boilers, (one for the dairy industry to consider)
creating a state-owned enterprise for renewable power investments, (one for the gentailers to consider)
creating a 'Power Purchase Agreement Platform' whereby the government 'could facilitate match-making and/or assume some of the burden of merchant power price risk', (one for the energy markets to consider)
creating a 'Government-sponsored storage facility for firming hedge products,' as a single market buyer for coordinated procurement of new generation, (Government getting into the electricity market in depth)
tax incentives for renewable electricity generation
Real GDP per capita barely rising

Meanwhile, GDP data published yesterday for the September quarter looked good for the economy and the Government on the face of it.

But a closer look shows revisions took the shine off the headline and the economy is still growing its size by importing people and working the existing population harder with higher workforce participation and longer hours, rather than by increasing output per hour worked or productivity.

Because, as any economist and honest politician will tell you, productivity isn't the main thing to focus on: it's the only thing that matters in the long run. It drives increases in real wealth and income and indicates how successful the economy and society is at increasing use and technology and skills to improve wages and asset values.

The spending growth came from consumers happier with surging house prices and bigger gross household incomes because of population growth through migration. Real GDP per capita was unchanged in the first nine months of 2019, with falls of 0.1 percent and 0.4 percent in the March and June quarters (technically a recession) offset by a 0.4 percent rise in the September quarter. Real GDP per capita rose 1.0 percent in the full year to September, but was up just 0.6 percent in the September quarter from the same quarter a year ago.

For me, this 0.6 percent annualised growth number is the true measure of the performance of the economy in the September quarter. Nothing like the 2.3 percent everyone else focused on.

"Per capita measures are being influenced by the noisy migration data, but weak per capita growth confirms that labour productivity remains soft," said ANZ's Sharon Zollner. (See ANZ's chart below)

Total growth (ie not per capita) of 0.7 percent for the quarter was higher than the economists' consensus forecast for growth of around 0.5 percent and more than double the Reserve Bank's 0.3 percent forecast. Annual growth rose to 2.3 percent from 2.1 percent, although it's worth remembering our population also grew 1.7 percent over the year.

However, a closer look showed downward revisions to GDP growth of 0.6 percentage points in the March and June quarters, albeit offset by growth revisions higher in the September and December 2018 quarters.




"The revised results show that average annual growth rates held up for slightly longer than previously published. However, recent trends remain unchanged, with average annual growth rates slowing over the past few quarters," Stats NZ national accounts senior manager Gary Dunnet said.

Economists said they still saw the Official Cash Rate needing to be cut one more time to 0.75 percent from the current 1.0 percent, possibly in May.

"All up, despite the slightly stronger print than expected, today's data reflect an economy that slowed sharply in 2019 – indeed, more sharply than we had previously believed. But the good news is that forward-looking indicators suggest a stabilisation in growth going into 2020," Zollner said.

"In the meantime, growth continues to fall short of the roughly 2.6 percent (annualised) rate that the RBNZ needs to see exceeded for inflationary pressure to build. And looking forward, it remains a story of growth just not quite delivering what the RBNZ needs to be confident of hitting its inflation target, with inflation pressures set to wane in this environment and inflation expectations at risk of falling further."


------------------------------------------------
1. A streaming trail of disruption
Sky TV announced yesterday it would buy Lightbox from Spark to try to compete with Netflix, Disney, Apple and Amazon.

Mark Jennings and and I have taken a closer look at the deal as an example of how the streaming revolution is not only disrupting media and telecommunications, but the economy as a whole.

We also look at how the new leadership teams of Sky TV, Vodafone and Spark are settling in. They're looking a lot more cooperative than the last lot, and a lot less interested in mergers and expensive battles for content.

See our full comment piece here
-------------------------------------
2. The road to zero death
South of Paekakariki in Kapiti lies a 3.5km stretch of road that saw 15 fatal crashes between 1995 and 2005.

But in 2015 when a $15m median barrier was installed the number of head-on collisions along the road vanished overnight.

Road safety improvements like these lie at the heart of a "Road to Zero" road safety strategy announced yesterday which will provide $200m extra each year for the next decade for road safety improvements

That money is to fix the 10 percent of New Zealand roads where 90 percent of road accidents happen.

Road Transport Forum CEO Nick Leggett says those roads have been overtaken by population growth and were simply never designed for the kind of traffic flows that passes along them now.

But installing median barriers on roads is not easy as the AA's Simon Douglas explains: "NZTA often comes up against some local and community resistance when they go to put in barriers like these because people perceive that it's going to impact them and cause their journey to take longer."

See the full story from Dileepa Fonseka here
-----------------------------
3. Shaw confident of gains post Carbon Zero
Green Party co-leader James Shaw says the tough moments his party has endured in 2019 were made worthwhile by the passage of the Zero Carbon Act.

Speaking to Newsroom Pro about the party's year that was, Shaw defended the concessions he had made to get the climate legislation across the line with near-unanimous support, saying the legislation needed cross-party consensus to endure beyond administration changes and give businesses the certainty they needed.

Shaw also stood by the decision to jointly develop Budget Responsibility Rules with Labour before the 2017 election, noting the need to win the public's trust.

The Greens have now decided that such "arbitrary" debt targets should be gone – and while they have not decided what they want to replace them with, Shaw says a debt ceiling, rather than a floor, may be the best approach.

You can read the full interview here on Newsroom Pro.
----------------------------
4. The 2020s are around the corner ... and there's nowhere to hide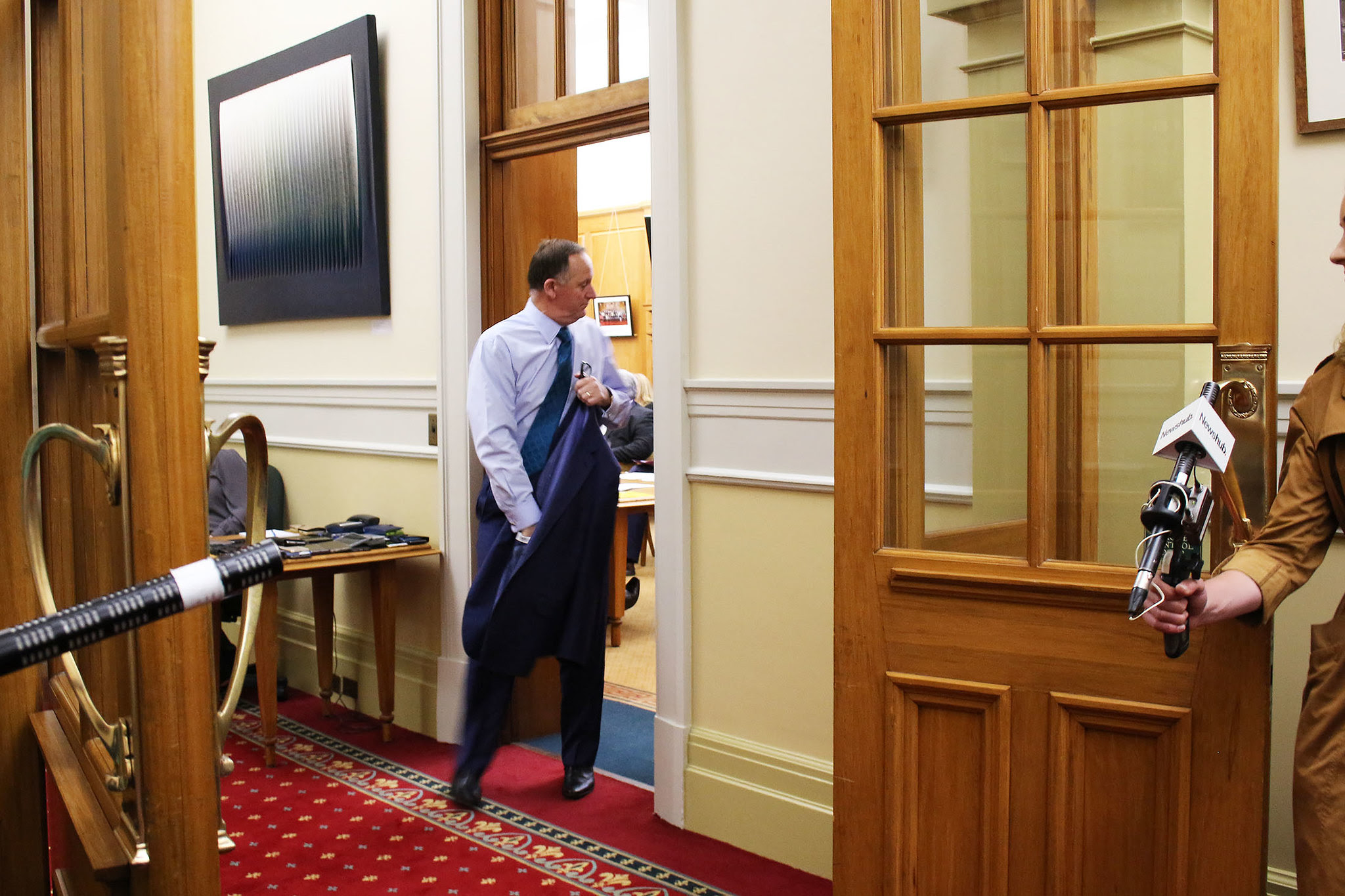 We're better prepared for the next decade than we were for the one just ending, judges Rod Oram in his final column of 2019.

We have a stronger sense of identity and purpose, we've honed some skills, made our economy more sophisticated and lifted our ambitions. In many ways we've had a better decade than have many other countries.
But along the way we've intensified the strains on our ecosystem and economy, and on our society and politics. Moreover, our challenges in the 2020s will be more severe and more urgent. If we fall short, we will do much greater damage to ourselves. This we have in common with all of humankind.

There is no place to hide.
-------------------------------
5. Milestones
Asking for ideas - Feedback is being sought on proposed changes to the Emissions Trading Scheme, specifically on a provisional emissions budget for 2021 - 2025. The Government is also consulting on the Accelerating renewable energy and energy efficiency discussion document which outlines plans to boost renewable energy generation and energy efficiency.

Special purpose vehicles on the way - The Transport and Infrastructure Committee is calling for submissions on the Infrastructure Funding and Financing Bill, which would establish a new funding and financing model to support the provision of infrastructure for housing and urban development via SPVs.

NIWA workers agree - Union members at the National Institute of Water and Atmospheric Research have accepted a new collective agreement after 17 months of bargaining and nationwide industrial action. "Nobody at a Crown Research Institute had ever gone on strike before our members did in November. It took collective action to get a result, and this should indicate there is a growing mood for change throughout the CRI sector," said PSA National Secretary Glenn Barclay. The dispute centred on three issues; pay transparency, overtime for part-time staff and the passing on of gains won by union members to non-union staff. NIWA has agreed to annually publish remuneration charts for all staff, detailing how their pay compares to trends in the job market.

Mapping it - The Commerce Commission has published an interactive map showing its initial assessment of locations where Chorus will eventually be able to stop providing copper services, such as landlines and ADSL or VDSL broadband, because fibre is available. The Commission says the earliest Chorus can stop supplying these services is from mid-next year and only in the areas where fibre is available to be installed in homes and once certain consumer protections are in place. The Commission is developing the consumer protections to be included in a copper withdrawal code and will release a draft code for consultation early next year.

Driving home for Christmas? - Additional lanes on Auckland's western and southern motorways are now open. The Lincoln to Westgate section of SH16 has been widened to three lanes in each direction and SH1 has also been widened to three lanes in each direction between the Takanini and Papakura interchanges.

Solar for senior exec report - The Auditor-General's report into Alpine Energy Limited's decision to install solar equipment at a senior executive's house found no evidence that the solar equipment was installed as part of a recruitment or employment package, saying that the installation had a legitimate business purpose (although the solar energy trial was largely unsuccessful and no useful data was collected). But it also found that Alpine Energy did not manage this expenditure as well as it could have, and it did not always follow principles of good practice expected of public organisations - for example, Alpine Energy was not able to explain how it calculated the final price for selling the equipment to the employee.

Caring for contractors - MBIE has released a discussion document: ' Better protections for contractors' addressing how independent contractors are protected. To coincide with the government consultation process, the CTU has also launched an online tool for people to tell the Government what they think about the treatment of contractors.

You won't be able to just fly to Europe ....The European Travel Information and Authorisation System is getting a little concerned that Kiwis may not know that from 2021 they will need to apply for a visa waiver before flying to Europe. ETIAS tweeted: "Most of the media has missed that Canadians, New Zealanders, Australians, & travellers of 50+ other countries [as well as the USA] will also require an #ETIAS starting in 2021". An ETIA will give you visa-free access to the Schengen states for at least 90 days in any 180 day period.

Mystery pricing - 'Mystery shoppers' buying groceries at PAK'nSAVE Mangere were charged a higher price at the checkout for one or more items than the promotional price displayed or advertised on the website and/or at the supermarket shelf, resulting in charges just announced by the Commerce Commission. Kennedy's Foodcentre (2003) Limited as faces twelve charges under the Fair Trading Act 1986.

State it more clearly - Public submissions are being called on the Secondary Legislation Bill, which would amend over 2,500 existing provisions, in more than 550 Acts, which delegate power to make secondary legislation. It would do this by clearly stating that these delegations create secondary legislation. At present, that is unclear due to a range of descriptions and tests for what is secondary legislation.
------------------------------
6. Coming up
Napier Port Holdings AGM, 10:30 AM, Napier

Further Ahead
Enjoy the holidays!
Parliament will be in recess until February 11
February 18 – Stats NZ will release population statistics for the year ending December 31
February 27 – ANZ will release its next Business Outlook Survey
March – Treasury will release its four-yearly Long-term Fiscal Statement
March 30 – Stats NZ will release estimated resident population from the 2018 Census

--------------------------
7. My pick of the news links
Government/Politics
Henry Cooke (Stuff) Government proposes capping emissions at 2020 levels with huge changes to ETS pricing
Denise Piper (Stuff): Auckland port move to Northland would take more than 30 years, Northport says
Phil Pennington (RNZ):Government departments' consultant spending increases
1News:NZ First's youth delegates convince party to soften 'hard line' on pill testing at festivals
Rob Mitchell (Stuff) Landlords looking to sell up over proposed changes to rental rules
Nick Truebridge (Stuff) Middlemore's National Burns Centre 'short' on machines to rehabilitate burns victims
Stuff: Alarming rise in fatalities where vehicle faults were a factor
Catherine Harris (Stuff):Inland Revenue staff celebrate Xmas pay rise
Samesh Mohanlall (Timaru Herald): Auditor-General questions Alpine Energy installation of solar equipment at senior executive's house
Cate Broughton and Michael Hayward (Stuff): Christchurch mayor 'regrets' not taking independent advice over election expenses
Damian George (Stuff) Council away day with overseas speaker costs Wellington taxpayers $23,000

Economy/Corporate/Investing
Marta Steeman (Stuff) New Zealand will be mapped for liquefaction-prone soils raising foundation costs for new homes
Anuja Nadkarni (Stuff):Pak 'n Save Mangere accused of overcharging customers
NZ Herald-BusinessDesk: RBNZ critics applaud governance changes, deposit insurance
NZ Herald-BusinessDesk:Eric Watson's Cullen Group in liquidation
Brent Melville (ODT): Taking a fresh look at corner dairies: The Night'n'Day Foodstores story
Fran O' Sullivan (NZ Herald-paywalled): Fran O'Sullivan: Ron Brierley child-porn allegation caps off 'the year of behaving badly'
Debrin Foxcroft (Stuff): Kiwipure found guilty of misleading claims over the power of its magnetic water filter
Hamish Rutherford (NZ Herald): Troubled oil company Tamarind Taranaki placed in liquidation
NZ Herald-BusinessDesk: Vector pursues private fraud prosecution
Grant Bradley(NZ Herald): Air New Zealand calls in temps to boost flight attendant ranks
RNZ:Fonterra pays $30m for almost full control of Chilean milk processor
NZ Herald:Families in need move into new public housing week before Christmas
Tom Pullar-Strecker (Stuff): Spark sells Lightbox internet TV service to Sky TV, cost to viewers not yet known

Overseas
Jane Li (Quartz) Fudan, a top Chinese university, stripped "freedom of thought" from its charter
NZ Herald:'In the event of war': China's new monster warship built for 'face-to-face' encounters in South China Sea
Clancy Yeates (Stuff):NAB chief executive says bank must lift its game, wants senior executives to 'fear me'

The Detail, Newsroom's daily podcast co-production with RNZ looks at its top 10 podcasts of 2019. Read more and listen here. iPhone users can subscribe here and Android users can subscribe here
----------------------------
8. One fun thing:

Emirates TeamNZ's Te Aihe feels like all of us as this year finally comes to an end



And because it's the last day and because it makes Bernard happy, here's a bonus in the form of Deborah Russell's "Shiny-plump-boi feasting on the neighbour's plum tree leaves".

Have a lovely summer.




Ngā Mihi

Bernard, Lynn and the Newsroom Pro team.
Help us create a sustainable future for independent local journalism
As New Zealand moves from crisis to recovery mode the need to support local industry has been brought into sharp relief.
As our journalists work to ask the hard questions about our recovery, we also look to you, our readers for support. Reader donations are critical to what we do. If you can help us, please click the button to ensure we can continue to provide quality independent journalism you can trust.