Business
Z Energy, BP and Mobil under fire
The Commerce Commission found that the fuel market is "not as competitive as it should be"and recommends taking aim at Z Energy, BP and Mobil to rectify the problem - but what will actually drop prices?
After the release of the long-awaited draft of the Commerce Commission's retail fuel market study this week, executives at Z Energy, BP and Mobil should be taking cover behind their boardroom tables.
The chief finding of the report, articulated by commission head Anna Rawlings, is that the market is "not as competitive as it should be" while the return on investment for fuel companies is "higher than what we would consider a reasonable return to be".
In order to tackle the problem, the commission's draft recommends two sets of options aimed at increasing competition at the wholesale level. First, it wants to see more flexible contracts in place to make it easier for resellers to switch suppliers.
Second, the commission recommends dismantling the near-monopoly on fuel importing infrastructure that Z Energy, BP and Mobil jointly control. Right now, the big three - referred to as "majors" by the industry - control 90 percent of the fuel supplied to New Zealanders.
More profit, more problems
While the wholesale market is the target of the commission's draft recommendations, that's not the only place that the low level of competition is felt. At the petrol pump, profits per litre of regular fuel have doubled since 2008.
Fuel companies insist that this statistic is misleading, since 2008 saw historical lows in returns after a decade of price wars. Rawlings says that it's still a useful measure - and that margins at the pump aren't the only indicator of profitability at "higher than normal competitive levels".
Returns on investment for fuel companies are also more than double what the commission would consider a reasonable return. In addition, new retail sites are paying off unusually quickly, according to the report.
Perhaps most significantly, however, is the fact that the returns on the entire business are not only above normal returns but are also higher than what fuel companies see in other countries. "Returns on capital ... have been consistently above the returns on capital being achieved by international comparator firms since 2011," the report states.
Consumers aren't informed
The report also hit out at specific fuel company practices it sees as anti-consumer, including exclusive discounting and obfuscating premium fuel prices.
"In our view, discounting is a poor substitute for more generalised price competition," the report says.
This is because "discounting can in effect 'sort' or discriminate between customers who claim discounts and those who do not. Some consumers may be excluded from discount offers due to the criteria in place".
Loyalty programs like AA Smartfuel were called out in particular, because they lead consumers to stay with one brand of retailer even when others may have lower prices.
The commission also examined issues surrounding premium fuel prices, which aren't usually advertised on boards. This makes it even more difficult for consumers to compare prices between different types of fuel and different retailers and then make informed decisions.
Moreover, fuel companies are earning significantly higher margins on premium petrol than regular petrol. This tends to be 13 to 15 cents per litre, the report says - almost double 2011's seven to eight cents a litre.
"Based on the evidence we have seen, the extra margin fuel companies are earning on this product does not reflect actual cost differences between premium and regular petrol," the report said.
Wholesale competition - or lack thereof
There are just four companies that import fuel to New Zealand. Z Energy, BP and Mobil share access to each others' facilities.
Over 90 percent of the fuel used by Kiwi motorists is brought through their infrastructure and sold either by one of them or by companies that purchase their fuel at the wholesale level - resellers like Waitomo and NPD.
Gull is the fourth company, which makes up the remaining 10 or so percent and turns a profit by running unmanned, self-service stations and charging less than the majors.
Other retailers have no choice but to buy petrol from one of these four companies, making it difficult for them to get a fair price and sell fuel effectively. "The core problem, in our view, is that an active wholesale market for fuel does not exist in New Zealand," the report found.
"This is weakening price competition in the retail market."
Moreover, the contracts that resellers sign with suppliers are often restrictive and in effect for long periods of time. This means companies are unable to switch suppliers to get a better deal when they would like and clamps down on competition among the wholesalers.
There are a few signs that conditions are improving, including the opening of an independent importer facility in Timaru and the expansion of non-majors like Gull and Waitomo into Wellington and South Island markets. "However, these developments will not address the core problem we have identified with the wholesale market," the commission said.
What is to be done?
The Commerce Commission was broad in its recommendations and Rawlings emphasised during a media conference that the report's suggestions were preliminary and subject to consultation. However, the commission did put forward two broad slates of options at the wholesale level.
The first involved increasing contractual freedom for resellers and distributors. This could come through regulatory intervention or through industry self-regulation, with the majors voluntarily changing contracts and access arrangements.
If resellers are able to switch suppliers more easily, then suppliers will be more likely to compete with one another for business at the wholesale level, driving down costs overall.
Accompanying this would be a second set of reforms aimed at increasing access to the majors' joint infrastructure. This could occur by opening up the majors' borrow and loan arrangements.
These allow each major to use as much fuel as it needs from a given terminal as long as it contributes an equivalent amount elsewhere. In essence, the majors contribute to and withdraw from a joint pool of fuel, taking advantage of widespread shared infrastructure.
The advantage these companies have over Gull is visible in the chart below, which comes from the commission's report. Allowing other potential importers to join the borrow and loan arrangements would stimulate the entry of more importers into the market, driving prices down.
For resellers, the commission floated the idea of copying Australia's terminal gate pricing, in which importers post the wholesale price of fuel at every terminal and any reseller can purchase fuel at that price.
Will it make a difference?
Increasing competition in the retail fuel market is all well and good, but motorists may be asking whether this will meaningfully reduce prices at the petrol pump.
Unfortunately, that seems unlikely. According to the Commerce Commission's report, profits on fuel only make up about 34 cents out of a $2.20 litre.
Cutting down on fuel companies' profitability would make gas cheaper, but even halving profits - and returning them to the unsustainable levels of 2008 - would only see prices take a 17 cent hit. That's about 7.5 percent, which is significant, but not the sort of difference that consumers might be hoping for.
For context, quarterly fuel prices fluctuated at least 10 cents three times out of the past eight quarters. Most recently, prices dropped from $2.19 per litre in the December 2018 quarter to $2.04 in the March 2019 quarter.
A 17 cent price drop wouldn't go unnoticed, but wouldn't massively reduce the price of petrol either.
Nats say taxes to blame
Unsurprisingly, the Opposition has taken aim at the Government's fuel excises as the cause of high pump prices.
According to the AA, the fuel excise made up 31 percent of the cost of petrol, GST another 13 percent, and money paid into the Emissions Trading Scheme an additional three percent.
In total, that's 47 percent paid up to the Government, compared to 19 percent in profits, two percent in shipping costs, and 32 percent in the cost of the fuel in the first place. These figures don't take into account the 10-cent Auckland Regional Fuel Tax.
National Party leader Simon Bridges told reporters on Tuesday that, "the biggest fleecer isn't the petrol companies, it's Jacinda Ardern and her Government. Jacinda Ardern is the fleecer-in-chief with all of the taxes she's piled on." Bridges was Minister of Energy from January 2013 to December 2016.
Bridges said that, including the regional fuel tax, petrol taxes had gone up 24 cents since the coalition government took office.
But according to the AA, New Zealand's taxes on petrol are low when compared with other countries. The AA's website says that "in many OECD countries, taxes account for around two-thirds of the price" of fuel.
While New Zealand's pre-tax petrol price is consistently among the top three among the OECD, its taxes on fuel are the sixth-lowest in the world. That leaves New Zealand 19th for overall petrol price.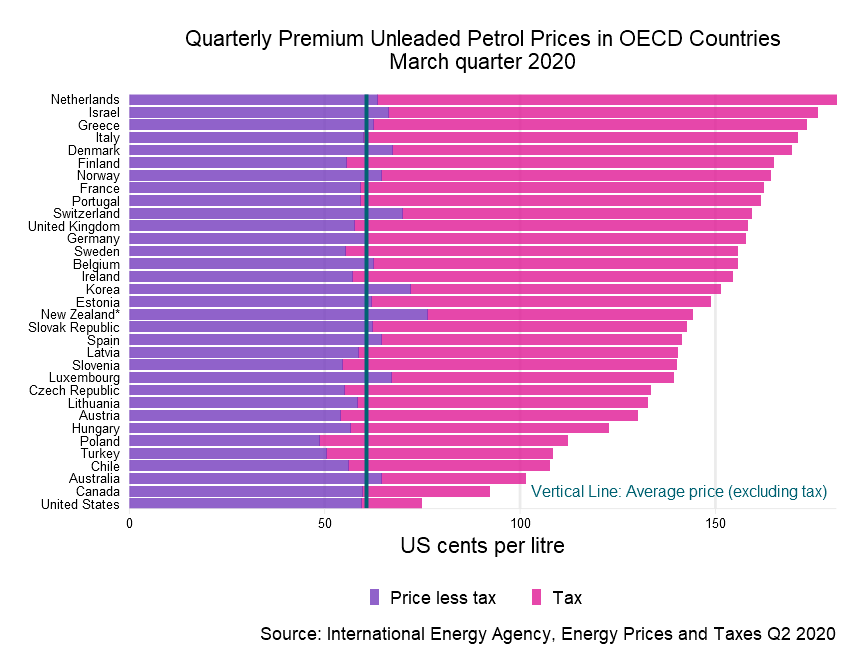 The Government also hit back at National.
"It's pretty absurd for any political party that's advocating for investment in infrastructure to be opposing tax that benefits us all. That's how we invest in infrastructure," said Associate Transport Minister Julie Anne Genter.
"Either they're incredibly cynical or they can't do maths or both."
What's next?
The Government has hailed the commission's report as a vindication of Ardern's accusations in October 2018 that fuel companies were profiteering and "fleecing" Kiwis.
But the report will still undergo a period of consultation during which its findings will likely be hotly contested by Z Energy, BP and Mobil.
In a statement, BP New Zealand's managing director Debi Boffa said: "We have cooperated in full with the commission and are committed to participating in the upcoming round of consultation, particularly on the options to enable wider participation at the wholesale level."
Mobil said in a statement that they were "currently assessing the preliminary findings of the Commerce Commission's draft Market Study into retail fuel, and we will be in a position to comment further once this assessment is complete".
"At service stations where Mobil sets the fuel price, we are focused on providing a competitive price to the consumer."
Z Energy did not respond to a request for comment.
Rawlings said that the two proposals - increasing contractual freedom and opening access to shared infrastructure - are closely interrelated.
If fuel companies were able to lobby away one of them, the other might not be as effective on its own.
Help us create a sustainable future for independent local journalism
As New Zealand moves from crisis to recovery mode the need to support local industry has been brought into sharp relief.
As our journalists work to ask the hard questions about our recovery, we also look to you, our readers for support. Reader donations are critical to what we do. If you can help us, please click the button to ensure we can continue to provide quality independent journalism you can trust.